Specialist Sports Hall Construction Consultancy
Ball Hall lead the way in providing outstanding sports facilities, offering a full project management and design service.
When you work with us to create your own sports hall, you secure a deep-rooted expertise in construction consultancy services, with a rare specialised focus and enthusiasm for sport.

From the moment you decide to progress your sports facility, we take you step by step, through the entire process, all the way to completion.
We are now very proud to present our carbon negative and multi-use sports hall options.
Projects
Every one of the 50+ sports halls that we have delivered, has been designed especially for the client with their sporting needs at heart.
Whether you are a school, an academy, a university, a local authority or a sports club, we understand that, when it comes to a new sports facility, you will have your own set of special circumstances.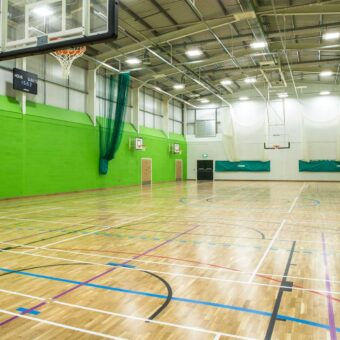 Five badminton court size hall with indoor cricket nets, basketball, netball, badminton, volleyball, futsal and handball provision.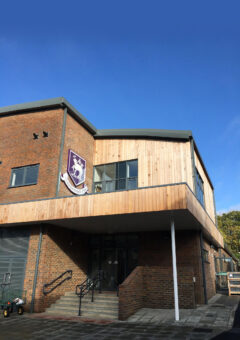 The St John's School Ball Hall was opened in Oct 2020. It is a 3 badminton court sports hall with 400 bleacher seats, changing rooms, an office and a first-aid room. Upstairs there are 2…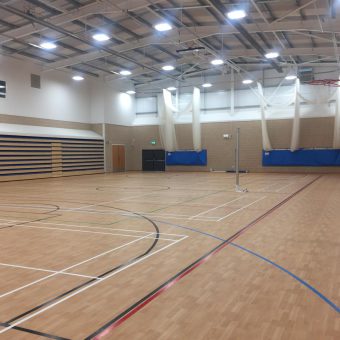 Four badminton court sports hall with changing rooms and a dance studio, incorporating a theatre conversion with 400 retractable seating. Includes a sand based hockey pitch, new roads and car parks.
All Projects
Approach
At Ball Hall we recognise that there may be no funding available at the early stage, so we offer free advice and consultation in the hope that as many sports projects get off the ground as possible.
We then provide a full consultancy service from inception to completion including professional expertise such as:
"The answer to our prayers ! A first class sports facility at a fraction of the prices other companies were quoting. They have been flexible enough to adapt designs to suit our specific requirements."
John Sharples, Headteacher, Sir Thomas Boteler Church of England High School, Warrington.
All Testimonials