Carbon Negative Sports Hall Construction Consultancy
Becoming carbon negative requires your organisation to remove more CO2 from the atmosphere than it emits.
If we are to meet ambitious international climate goals, it is becoming widely accepted that global CO2 emissions will need to fall below zero by 2050. Here at Ball Hall we have spent many years ensuring all of our sports halls are built to a high quality with renewables, energy efficiencies and a low impact on the environment. We are committed now, more than ever, to developing buildings that go beyond current standards and help to meet these climate goals.
Our Carbon Negative Ball Hall is 2050 ready and by commissioning one, you will have taken your first step towards achieving negative carbon in your organisation.
"We believe that to create change, companies like ourselves have to continuously strive for new, innovative design ideas to reduce carbon emissions through the life of a new building."
"The calculated carbon contribution in use of a typical Carbon Negative Ball Hall building achieves MINUS 10.7kgCO2 per m2 per annum."
Source - JSH De-Carbonisation Report February 2021
Net Zero Carbon Sports Buildings
We want to give our customers the option to invest in a sports hall that will both support ambitious climate goals and ensure they have a high functioning, quality building that gives them every chance of becoming 2050 compliant not in their future, but now.
Here are some of the ways we are able to provide your building at net zero carbon.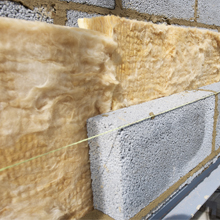 Insulation
Insulation and airtightness via the walls and floors of a building , reduces the requirement to heat the building, essentially reducing carbon emissions.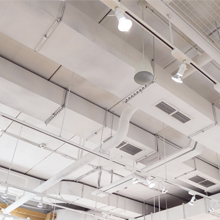 Ventilation & Heat Recovery
Extracting moist and stale air from a wet room and recovering any heat in that air, will reduce your consumption of hot water, energy bills and reduce carbon.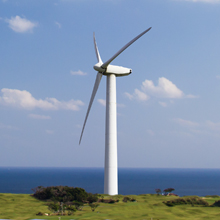 Renewables & Smart Heating
Using renewables for heating the sports hall itself as opposed to reliance on gas ensures a positive contribution to your carbon footprint and the intelligent control systems mean energy consumption is minimised.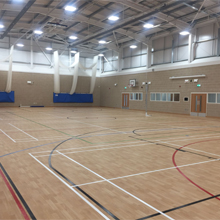 Energy Efficient Lighting
Low energy LED lighting reduces energy use, whilst movement sensors and intelligent control systems ensure lights are only in use when needed.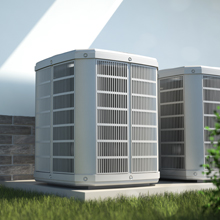 Water Heating
Water heating via air source heat pumps ensures energy efficient water heating. This is particularly effective when combined with underfloor heating, which can run at a lower temperature than traditional radiators.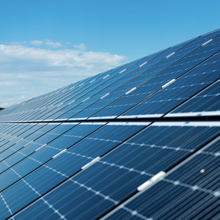 Integrated, PV Panels
The large expanse of roof allows a significant area of PV panels on a sports hall, using the latest and best semiconductor technology to convert energy from the sunlight to electricity to power the building and feedback into the grid.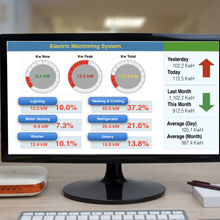 Monitoring
Tracking energy consumption can help to reduce and eventually eliminate energy waste. Smart building management systems, provide real-time data and allow the efficient operation of the building.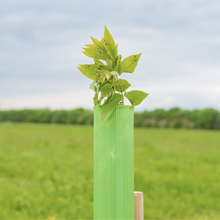 Landscaping
By helping you to design the landscape around your sports hall site so that carbon dioxide capturing plants and trees are incorporated we are providing a further contribution to the environment.
Our Negative C02 Emission Reading
In 2020 we commissioned Johns, Slater and Hayward - a team of Chartered Designers of Mechanical and Electrical systems, to work with us.
Using their many years of expertise in energy and carbon reduction, JSH conducted a rigorous audit and assessment on one of our Carbon Negative Ball Halls and produced a report for us. The CO2 emissions figure they presented is MINUS 10.7kgCO2 per m2 per annum. Whilst this doesn't include carbon arising from construction (which we actively seek to minimise), we are very proud that this is significantly carbon negative through the building's use and delighted to be able to offer our customers a future proof solution which can benefit their own energy costs and help them to contribute to carbon reduction.
Projects
Every one of the 50+ sports halls that we have delivered, has been designed especially for the client with their sporting needs at heart.
Whether you are a school, an academy, a university, a local authority or a sports club, we understand that, when it comes to a new sports facility, you will have your own set of special circumstances.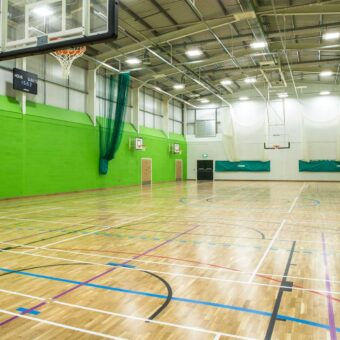 Five badminton court size hall with indoor cricket nets, basketball, netball, badminton, volleyball, futsal and handball provision.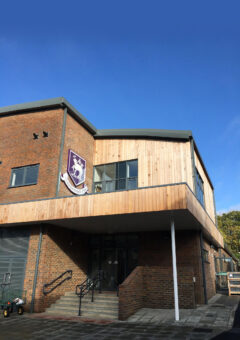 The St John's School Ball Hall was opened in Oct 2020. It is a 3 badminton court sports hall with 400 bleacher seats, changing rooms, an office and a first-aid room. Upstairs there are 2…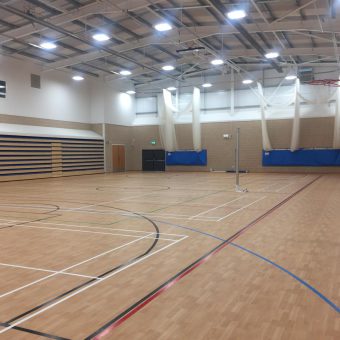 Four badminton court sports hall with changing rooms and a dance studio, incorporating a theatre conversion with 400 retractable seating. Includes a sand based hockey pitch, new roads and car parks.
All Projects