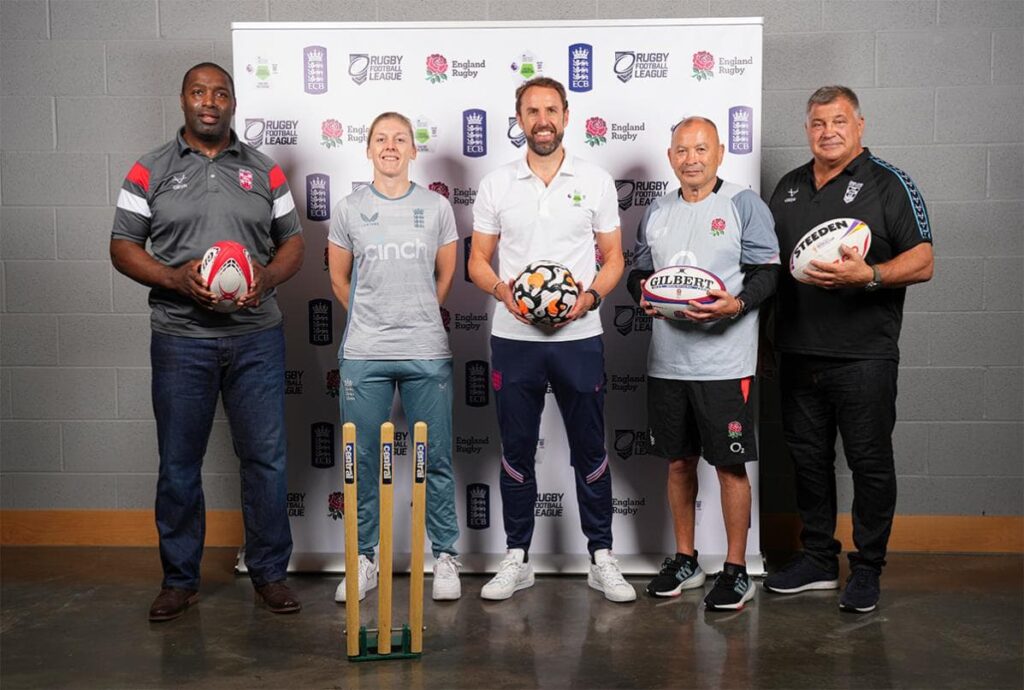 Gareth Southgate and The Football Foundation announce funding commitment to multi-sport facilities
5th September 2022
Press Release from the Football Association

Gareth Southgate joined forces with the Premier League, The FA and Government's Football Foundation today to announce that by 2025, the charity plan to commit 40% of its investment, worth a projected £92 million over the next three years, into multi-sport projects that support both football and an additional sport, such as rugby, cricket, netball, and basketball. This will benefit the landscape of sport across the country, ensuring people will be able to access more places to play for more of the nation's favourite sports.
Gareth was joined at Gunnersbury Park Sports Hub by Eddie Jones (England Men's Rugby Union Head Coach), Heather Knight OBE (Captain of the England Women's Cricket Team) as well as Shaun Wane and Craig Richards (England Men's and Women's Rugby League Head Coaches) to make the announcement and launch PitchPower, the Football Foundation's web app that will revolutionise the condition of grass pitches in England. Initially launched to football in 2020, the app is now available for Rugby League, with Rugby Union set to go live at the RFU's 'Pitch Up For Rugby' season opener on 17th/18th September, and cricket to follow at the start of the next season.

Free to use, PitchPower will see every community club and organisation across cricket, rugby league, rugby union, and football, given the ability to carry out their own sport specific grass pitch inspections. Once an inspection is submitted, grass pitch experts at the Grounds Management Association produce an assessment report with bespoke advice and recommendations to improve the grass pitch quality at a site.

Along with the support in inspections, £15 million of Sport England National Lottery funding will be made available via the Foundation to support the improvement of grass pitches at cricket, Rugby League and Rugby Union grounds the length and breadth of the country over the next three years. From Spring 2023, clubs and organisations using PitchPower to submit their inspections will have the opportunity to apply for funding to support making the improvements identified through the app.

The multi-sport commitment will also see the first Football Foundation PlayZones open in 2023, thanks to additional investment of £13.5m from the Premier League. These small-sided sports facilities will provide accessible outdoor facilities that bring communities together through recreational forms of football and a range of other sports.

England Men's Football Manager and Football Foundation Supporter, Gareth Southgate, said:
"The Premier League, The FA and Government's Football Foundation does so much more than helping communities improve their local football facilities and its new commitment to multi-sport facility funding marks an exciting time for grassroots sport across the country.

"PitchPower is going to be a game changer for grass pitch sports in this country. Around 90% of the affiliated football game is played on grass but we know that millions of players are left disappointed every year when their matches are cancelled due to poor quality pitches, something the Football Foundation and its partners are working tirelessly to prevent.
"With the funding that cricket and rugby clubs will be able to unlock by undertaking inspections with PitchPower, a greater number of pitches across these sports will be better quality. This means more opportunities to play and get active which is hugely important to the nation's physical and mental wellbeing."
Sports Minister, Nigel Huddleston, said:
"We are committed to improving access to good quality sports facilities and levelling up opportunities for people to get involved in sport.

"Coupled with the £230 million investment we are making to build or improve up to 8,000 grassroots football and multi-sport facilities across the UK by 2025, this commitment from the Football Foundation will be transformational.

"This shows what can happen when we work together with football and our partners at the Premier League and The FA."
Premier League Chief Executive, Richard Masters, said:
"Over the past 30 years, the Premier League is proud to have supported the development of grassroots sport through investment in facilities and community programmes across the country.

"We are committed to investing more than ever to provide additional opportunities for people to participate. We have recently announced new funding for small-sided PlayZone pitches which will provide multi-sport facilities in the heart of communities that need them the most.

"Through the new PitchPower app, the Premier League and our Football Foundation partners are working with other sports to develop and maintain high-quality facilities, helping even more people to keep active."
Chief Executive of Sport England, Tim Hollingsworth, said:
"The rollout of the PitchPower app for football, cricket and rugby is a major step forward for facility enhancement, bringing together a host of major sporting bodies in exactly the way our Uniting the Movement strategy seeks to do. I am delighted that Sport England is also providing £15m of National Lottery funding to help further improve pitches in places where they can have the biggest impact.

"I am also pleased that 40% of the Football Foundation's funding over the next 3 years will also have a multi-sport benefit in addition to football – this is huge and will benefit multisport pitches and facilities up and down the country, ensuring more people can play more sport, more often."
Eddie Jones, England Men's Rugby Union Head Coach, said:
"Having access to quality pitches is essential for all sports at all levels. This initiative will go a long way to improving this and will have a really positive impact on the grassroots game.

"The rugby season is about to start and people up and down the country will be taking to the field playing the game they love. That our community clubs will be able to access this support and funding will make a real difference to rugby in England.

"It's great that different sports can come together and work to make sport better for everyone, more accessible and more enjoyable."
The ECB's Director of Participation and Growth, Nick Pryde, said:
"Every club up and down the country is indebted to the hard work of those volunteers who dedicate their time to produce pitches for recreational teams to play on.

It is those volunteers who are the heartbeat of our game and supporting them through innovative ideas such as PitchPower is one of the most important things we can do.

I am proud that multiple sports have been able to come together to provide this level of support and access to funding for grassroots clubs, which will not only help to ensure better and safer pitches in cricket, but also more opportunity to play for more people."
Shaun Wane, Head Coach of England Rugby League (Men), said:
"This is a brilliant example of sports working together, and on behalf of the many clubs and players in Rugby League who will benefit from PitchPower, it's a massive thanks to the Premier League, The FA and Government's Football Foundation.

Preparing for a World Cup this autumn gives us the chance to show our appreciation for all the volunteers at community clubs who are the bedrock of all sports. It wouldn't be possible without the pitches and facilities needed at community level and I'll always make sure my England team are aware of the importance of that."
Craig Richards, Head Coach of England Women Rugby League, added:
"I know our England Women have been inspired in our preparations for the World Cup by the performances of the Lionesses in the Euros this summer, and this is just as important as the growth of Women's and Girls' Rugby League wouldn't be possible without the pitches and facilities needed at community level."
Director of Rugby Development at the RFU, Steve Grainger, said:
"We are delighted to be partnering with the Football Foundation on this exciting initiative and want to thank them for their multisport commitment. Good quality natural turf pitches are critical in getting Rugby Union played and our partnership to develop the Pitch Advisory Scheme has got off to a flying start, with over 500 face-to-face pitch consultations having been completed in the last six months.

As our game diversifies with more women and girls playing, growing mini and junior sections in clubs and demand for matches to be played throughout the week, many pitches are coming under more and more pressure The PitchPower app will have a real impact in helping to manage this, enabling us to reach a much higher number of clubs and improve these much-needed community assets.

We're looking forward to the app going live in tandem with our Pitch Up For Rugby activity on 17/18 September as community clubs celebrate the start of the grassroots season."
The launch took place at Gunnersbury Park Sports Hub, which opened last year after receiving a £4m grant from the Football Foundation in 2018 to build state of the art multi-sport facilities.
Attendees at the event included:
Gareth Southgate OBE – England Men's National Football Manager, The FA
Eddie Jones – England Men's Rugby Union Head Coach
Shaun Wane – England Men's National Rugby League Coach
Craig Richards – England Women's National Rugby League Coach
Heather Knight OBE – Captain of the England Women's Cricket Team
Karl Standley – Wembley Stadium Grounds Manager
Tim Hollingsworth – CEO, Sport England
Martin Glenn – Chair, Football Foundation
Jemima Bird – Trustee, Football Foundation
Kelly Simmons OBE – Director of the Women's Professional Game, The FA
James Kendall – Director of Football Development, The FA
Teams from Brentford FC Community Sports Trust
Projects
Every one of the 50+ sports halls that we have delivered, has been designed especially for the client with their sporting needs at heart.
Whether you are a school, an academy, a university, a local authority or a sports club, we understand that, when it comes to a new sports facility, you will have your own set of special circumstances.