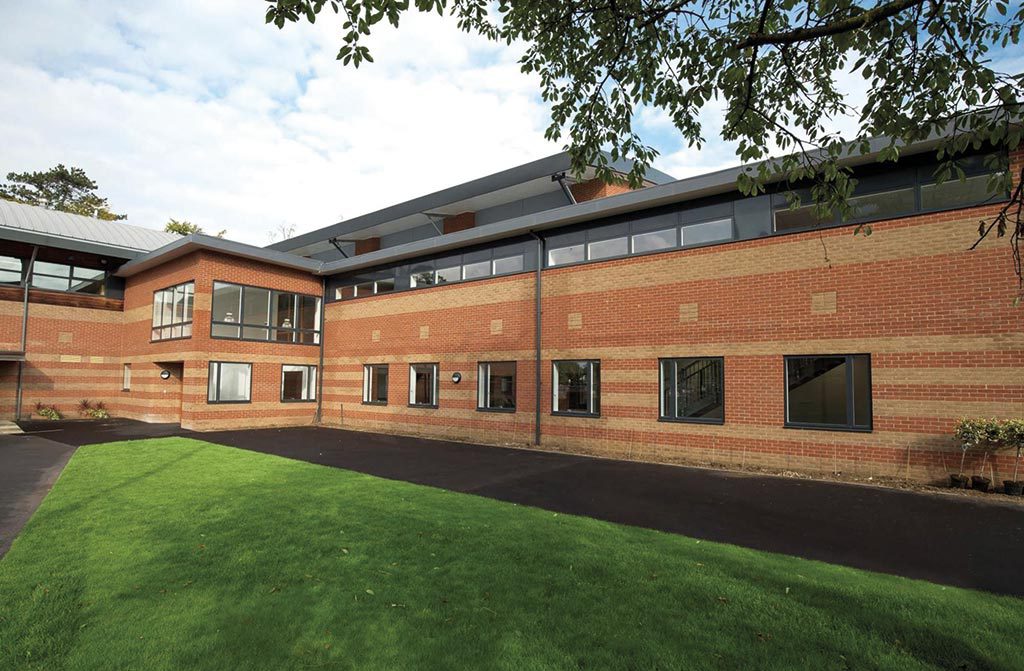 Is this our most memorable project?
16th September 2021
In our series of articles celebrating 25 years of Ball Hall, Alastair Clark looks back at one of the projects he remembers most.
…St Helen and St Katharine School, completed in 2016.
What was it that made this project so memorable?
This project was quite different from our more usual sports hall projects, which are typically entirely new buildings. At SHSK there was already an existing sports hall and changing rooms. The sports hall was no longer fit for purpose as it was too small and no longer met current standards or the school's requirements for sport. Our proposal was to demolish the sports hall at the front of the building and build a completely new extension at the rear to house the new six badminton court sports hall, a modern fitness studio, a dance studio and class spaces.


What were the design challenges?
The building was in the historical grounds of St Helen and St Katharine School. We had to design the sports hall sensitively to the rest of the buildings. This included providing a convincing heritage statement to the Planners on its suitability. We were able to provide a design that matched the existing building that we were linking onto. It was in-keeping with the prestigious historic surrounding buildings whilst providing some subtle contemporary solutions. For instance, we installed Kalwall, high performance panels into the sports hall, for daylighting and energy efficiency.
What were the construction challenges?
We had to work in a live school environment, which included keeping the existing changing rooms and sports hall (that we were linking onto) operational at all times. We were able to achieve this with careful planning and by carrying out intensive alteration works during holiday periods.

What was the end result?
We provided a great new building, which received tremendous feedback from the school and from the excited students that were able to use it. The opening ceremony was presided over by Dame Katherine Grainger (Olympic Gold Medallist and Head of UK Sport) who gave a truly inspirational presentation to the St Helen and St Katharine girls. And According to School Sport magazine:
Now in 2021, the school is ranked in the top 20 girls' schools for sport and hopefully the facilities we were able to help provide in 2016, are a contributing factor to the students' successes.
For a full project overview visit https://ballhall.co.uk/projects/st-helen-st-katharine-school/
Projects
Every one of the 50+ sports halls that we have delivered, has been designed especially for the client with their sporting needs at heart.
Whether you are a school, an academy, a university, a local authority or a sports club, we understand that, when it comes to a new sports facility, you will have your own set of special circumstances.