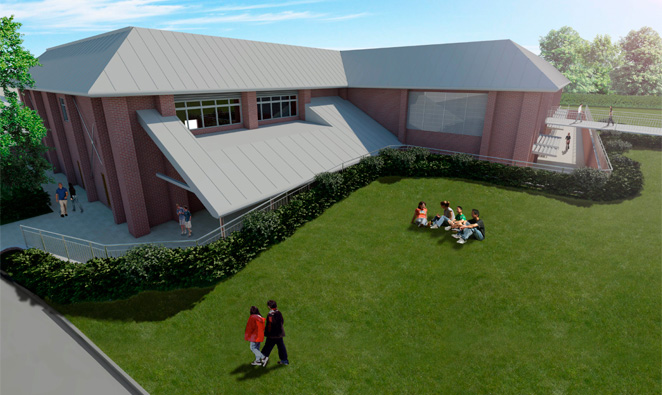 ACS International School – Egham
16th October 2012
ACS International Schools educate 3,300 students at four sites : Cobham, Hillingdon, Doha (Qatar) and Egham and they believe that sport plays a huge part in personal character building going far beyond physical development.
Good reason then for them to invest in top of the range specialist designed indoor facilities.
The latest, designed and project managed by sports hall market leaders, BALL HALL, has recently been completed at ACS Egham.
The sports hall is entered at first floor level onto a balcony running along two sides of the building and overlooking  an eight badminton court size area elastic sprung oak sports floor.
Basketball and Volleyball are key activities and in addition to two match basketball and three match volleyball courts there is a "show court" for both with seating for 400 spectators.
The hall can be divided into two full size basketball areas by the roof mounted, electrically operated dividing net.
This hall can be dramatically changed into a luxury conference, prize giving or end of year leaving ball  venue by fitting the giant carpet tiles, activating the huge screen and Audio- Visual equipment or erecting the integral Draping System (marquee)
The Climbing Chamber is a dedicated climbing area with "state of the art" mosaic 3D panels incorporating overhanging belay ledge and six climbing lines.
The Fitness Suite has highest grade cardio-vascular equipment with strength stations. It is fitted out with "Fitlynxx" computer connectivity to monitor training programmes which can be individually tailored to monitor student development.
The Dance Studio has an area elastic sprung floor and is very popular for all kinds of activities for the children right down to the age of three.
The needs of the specialist staff are catered for as there are four individual offices as well as a larger staff general office.
There are three large classrooms all fitted with A-V equipment.
Other amenities include four student and two staff changing rooms, a laundry room a kitchen and social area.
The Head of School Jeremy Lewis commented : "The opening of our new sports centre conveniently follows on the heels of the 2012 Olympics which have instigated a resurgence interest in sports across numerous disciplines. Our new facilities will enable us to maximise this interest to the long term well-being of our students whether it leads to an individual sport's specialism, a wider career in sports science or training, or simply general well-being."
Director of Sport, Bob Bulloch said "It was brilliant the way Ball Hall developed the design to feature all the different users"
Projects
Every one of the 50+ sports halls that we have delivered, has been designed especially for the client with their sporting needs at heart.
Whether you are a school, an academy, a university, a local authority or a sports club, we understand that, when it comes to a new sports facility, you will have your own set of special circumstances.