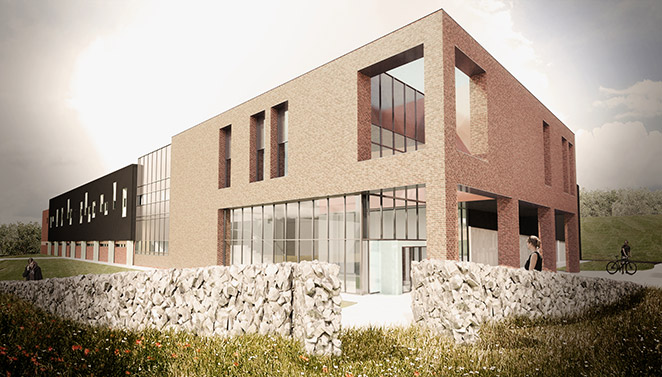 BALL HALL heads for the Highlands!
10th February 2015
The new Academy of Sport and Wellbeing at Perth College UHI due for completion September 2016 comprises 5,000 square metres of floor space. Boasting a 9m high six badminton court Sports Hall with 500 seats, six changing rooms, a 10m high climbing chamber, meeting room and canoe training tech. room.
The first floor houses an extensive Hair and Beauty Department and six classrooms. Also included is large fitness section with a Kinetic Zone, Dance Studio and Fitness and Strength and Conditioning suites.
The new development will provide a vibrant addition to the campus and have an academic focus on achieving excellence in the delivery of sport, health and wellbeing courses to a degree level.
The Academy will provide extensive hair and beauty training facilities as well as sport and academic facilities for both students and staff and potentially, for wider community groups. We will also develop sport and wellbeing research activities which will help make a real difference to the lives of people in Perth and beyond.
"This is tremendous news for Perth College UHI, our students and the City of Perth. As a College and University it is essential that we have the best possible facilities for our students, in order to provide them with a first class education."

Margaret Munckton,Perth College UHI principal and Chief Executive.
Projects
Every one of the 50+ sports halls that we have delivered, has been designed especially for the client with their sporting needs at heart.
Whether you are a school, an academy, a university, a local authority or a sports club, we understand that, when it comes to a new sports facility, you will have your own set of special circumstances.