Royal Opening for Esher Ball Hall
24th February 2013
Following a highly successful London 2012 Olympic year, students and staff at Esher Church of England High School eagerly awaited the official opening of the striking new Ball Hall Sports Centre on the 5th February by HRH The Duke of Kent KC. The new Ball Hall is built on the school premises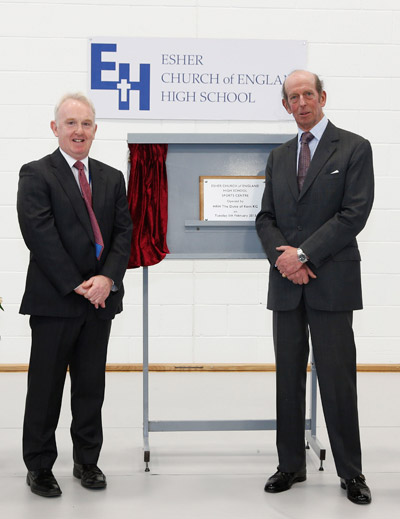 The Sports Facility consists of a modern, state of the art main sports hall, a fully furnished fitness suite with thirty stations for gym equipment, a dance studio/ancillary hall, conference room, changing rooms etc.
The sports hall itself has been designed to include a specially sprung wooden floor and accommodates sports such as Badminton, Volleyball, Basketball, Netball, 5 a-side football, cricket nets, and archery, ranging from community to international standards.
Over 200 students took part in the official opening in roles that included putting on a variety of sporting and dance displays and entertaining up to 60 guests HRH officially unveilled the plaque to open the Sports Centre. The Esher Army Cadets from 153 Detachment were also onsite to be inspected by and parade for HRH Duke of Kent KC.
Projects
Every one of the 50+ sports halls that we have delivered, has been designed especially for the client with their sporting needs at heart.
Whether you are a school, an academy, a university, a local authority or a sports club, we understand that, when it comes to a new sports facility, you will have your own set of special circumstances.